iRecord Pro Duplicator (iRecord Pro-D) in conjunction with supplied USB hub, records video and audio or audio-only, directly to multiple (up to four) external USB devices including iPads, iPhones, USB hard disks and USB flash drives. Recording to a single device, does not require attaching of USB hub.
iRecord Pro-D can record video from any device with either a composite video or S-video output jack and audio from any device that has line out audio jacks. Thus iRecord Pro-D can be connected to analog A/V sources, including TV, set-top boxes, DVR, CD/DVD Players, VCRs, LP turntables, cassette players, internet and satellite radio, and computers. The video is compressed in H.264 format with audio in AAC format. The file format is MP4 compatible with iDevices. For audio-only, the supported codec's are MP3, AAC, WAV, and FLAC.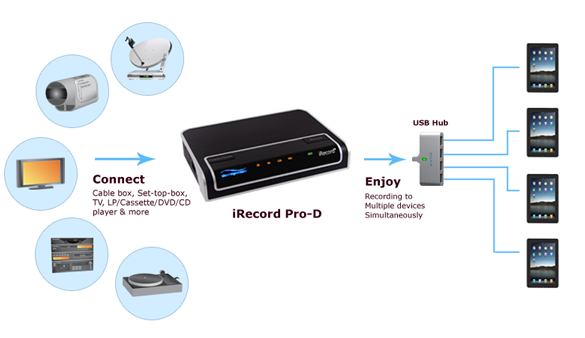 The iRecord Pro-D recording steps are outlined below:
Step 1 - Connect analog A/V source to iRecord.

Step 2- Connect your iPads, iPhones, USB hard disks or USB flash drives to ports of the USB Hub. Connect externally powered USB hub to iRecord's host USB port.

Step 3 - Power up iRecord Pro-D and USB hub. The status LED will turn ORANGE indicating system has booted successfully. As the devices are recognized by iRecord, the 30, 60, 120 and 180 timer LEDs will turn on one by one for each attached device.

Step 4 - Once all the devices are recognized, press Record button to mount the attached devices. The Status LED starts blinking GREEN during device mounting and turns solid GREEN when all attached devices have been mounted.

Step 5 – Press the Record button to start recording. The status LED will start blinking RED to indicate that recording is in progress.

To stop recording, simply press the Record button again and wait for the status LED to turn solid GREEN. Now you may disconnect power from iRecord or you can record again.

Note1: Once devices are mounted as mentioned in step-4 above, the removal or insertion of any device takes system back to device detection mode.
Note2: Use only same type of devices for simultaneous recording; iDevices (iPads, iPhones) or USB storage devices (Harddisks, flash drives).

For further details and other features of iRecord Pro-D please consult the User Guide.